A1 Studio Amsterdam
The studio was built in the early 1980's by Peter Flamman, who also designed the studio from scratch. Peter Flamman is the best-known sound producer and film sound designer in Holland, known for his work on films by Paul Verhoeven and almost every good Dutch feature film. Since the early 1990's the studio was used by Paul's brother Jeroen. Who together with Abraxas was the techno duo and originator of Dutch house music. They produced and recorded several hits in this studio: I Want To Be A Hippy for Technohead and The Partyanimals tracks, Have You Ever Been Mellow, Hava Naquila, Aquarius, and Good Vibrations. As fourth consecutive number one in the charts and already a gold disk, Aquarius reached platinum status as well. Their hits reached number one in at least twelve countries not only in Europe but the Far East as well. Email to Berlin by Double Date who were competing in the Eurovision Song Contest was produced here, together with Dutch singer songwriter Jan Rot.
Since 1999 the studio has been run by Spencer Vos, film recordist and music producer. At the Dutch Pop Institute he is recognised as one of the original hardcore house producers of the early 1990's. Nowadays he's more into producing jazz, pop and has an appetite for grunge. He recorded for Eddy de Clercq, Viktor & Rolf, Martin Duvall, the premiere of Rodrigo Otazu Gassan Diamonds but also produced for blue chip companies such as Orange Telecom, KPN and Philips to name a few. Legend has it that singer Tilda Swinton once arrived in a stretch-limo too big for the street the studio is based at. The poetry she read was used in Viktor & Rolf at the Paris presentation of the fashion guru's collection of 2005.
The state of the art approach is that bands are recording using high end broadcast analogue mixers via external firewire convertors straight to mac using tube amps as microphone inputs. The advantage is enormous signal to noise ratio and the warmth of the tubes is legendary. The final mixes are DDD 24 bit, and stay digital from recording till final product.
Spencer has made acoustical and architectural designs, virtual reality and 3D designs for several high end music production studio's in Limburg, Holland and The Algarve, Portugal. Studio A1 was redesigned by Spencer in 2007 and finished in the beginning of 2008.

Spencer's discography

Spencer's credits
The Studio
Three floating sound proof acoustically treated rooms.

Studio plan
3 The main studio. This is connected to studio 2, the 19inch storage and studio 7 by Belden line and microphone wire, the studio is a floating box in box design (about 4X5 metres), the walls are trapezium shaped,double 1/2 inch gypsum plated and gypsum sealed. The ceiling is cellotone and angles about 30 degrees. The studio is connected to the vocal booth by double sliding glass doors. Years of mixing audio, first starting with large consoles the studio nowadays has a different approach. Even the Protools set has been put away as the sound was not comparable to the best analogue can give. Using a state of the art discreet (no chip or transistor at all) tube mic to line convertors the signal goes via a firewire convertor straight into Mac. When more microphone signals must be recorded at once the signal goes via a broadcast analogue mixing console from mic-to line level and from there via firewire into a Mac.
2 the vocal booth/drum booth This is an acoustical treated floating studio of box-in-box design (about 2X3 metres) big enough for a drum kit, the walls are a combination of concrete with a layer of gypsum plates. On top of this gypsum layer is a jamaican window construction making it possible opening and closing hard wood flexes. Behind these flexes is a rockwool filled smoke rejecting iso 9009 textile acoustic structure even more dampening the sounds. Thus by changing the flexes (opening /closing) you changes the semi acoustics of the room from almost a dead room to a bit more alive room acoustic. The ceiling is covered with the same dampening material in a sine wave structure. The studio connects to the main studio by double sliding doors.
7 vocal, guitar, drum studio This is an acoustically treated floating studio, (about 5X3 metres) big enough for a guitar setup or drum kit too, a box-in-box design, the walls are a combination of concrete with a layer of double gypsum sealed plates. The ceiling is made of double 1/2 inch gypsum plates and is sealed. The entry to studio 7 is via a double door through an acoustic audio gate which makes it hard to bleed audio even for the loudest players to main room or even the vocal booth. Recording semi live using all rooms is a perfect way of maintaining live interaction and separation. This room has natural light.
All the rooms are force ventilated, there is a kitchen, a toilet and parking

You can see the gear used at the studio here

You can see the studio re-build in 2007

You can see what the studio is like today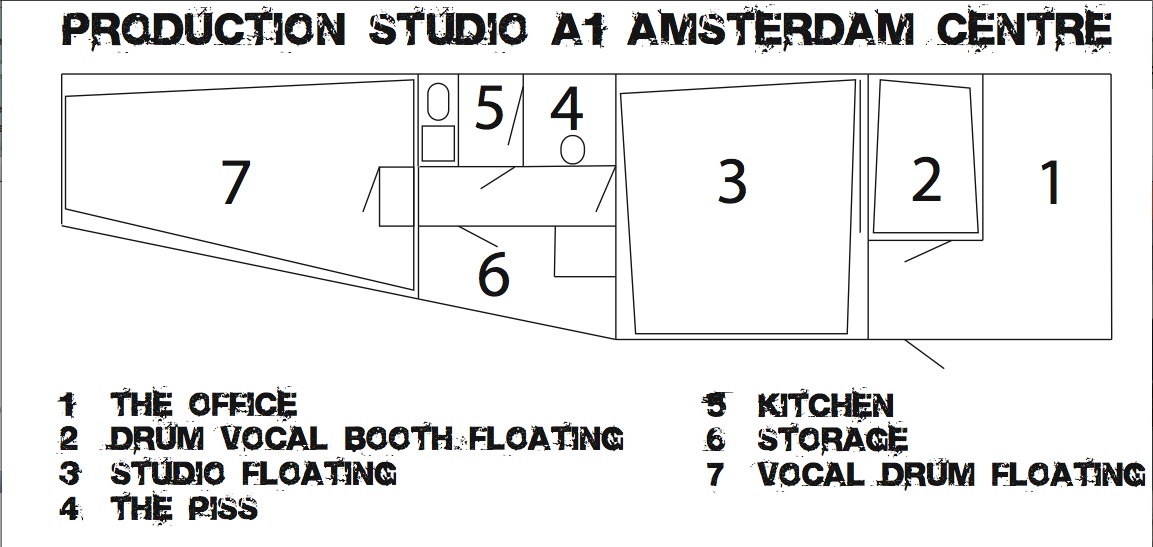 e mail or call us for more info
+31 6 2527 6440
Accommodation
A nice hotel to stay in very close to the studio
A variety of places to stay at affordable prices
You can stay on a houseboat or apartment in Amsterdam too
This is a great houseboat to stay on